Manicure
By
Arman Fayaz
| Iran | 2019 | 14 min
SYNOPSIS
When a young woman commits suicide and is posthumously discovered to be intersex, fanatical villagers are in an uproar.
FESTIVALS
Sundance Film Festival 2019
Palm springs International Film Festival 2019
CREDITS
Director: Arman Fayaz
Writer: Arman Fayaz
Cinematographer: Arman Fayaz
Editor: Mahyar Behmanesh
Music: Behzad Abdi
Cast: Nima Hasandokht, Mazaher Ramezanpour, Bahman Sadeghhasani, Ali Najafi, Hamideh Barati
She Who Wasn't Tamed
By
Saleh Kashefi
| Iran | 2019 | 15 min
SYNOPSIS
Hanie, a highschool girl tries her best to not to disappoint her parents and her teacher at the poetry competition.
FESTIVALS
Seattle True Independent Film Festival 2019
Canberra Short Film Festival 2019
Utopia Film Festival 2019
Olympia International Film Festival for Children and Young People 2019
CREDITS
Director: Saleh Kashefi
Writer: Saleh Kashefi
Cinematographer: Farzad Shahab
Editor: Forough Azizi, Saleh Kashefi
Music: Parachord Band, Saleh Kashefi
Cast: Anita Bagheri, Paneez Esmaeili
By
Atefeh Mehrabi
| Iran | 2019 | 18 min
SYNOPSIS
Mahtab could end Omid's streak of bad luck. On New Year's Day, she has to decide by 4am whether she loves him.
FESTIVALS
Tehran International Short Film Festival 2019
CREDITS
Director: Atefeh Mehrabi
Consultant: Soroush Mohammad zadeh
Cinematographer: Davood Rahmani
Editor: Soroush Mohammad zadeh
Sound Recorder: Ali Zolfaghari
Sound Designer: Mahmoud Khorsand, Mahdi Jamshidian
Set Designer: Vahid Zare-mand
Costume Designer: Atefeh Mehrabi
Make-Up: Meysam Gharegoozlou
Cast: Khayam Vaghar Khashani, Samaneh Esmaeili, Rana Roshanak, Farshad Mojarab
Whopping Cough
By Reza Tofighjoo | Iran | 2019 | 15 min
SYNOPSIS
Arash, a photographer and soccer journalist, at the night of a crucial soccer match between Iran and South Korea, faces his 3 year-old son's illness. He and his wife Marjan take their son to the hospital but the doctor's diagnosis makes that night a serious crisis in the couple's relationship.
FESTIVALS
Tehran International Film Festival 2019
Health Film Festival 2019
Independent Short Film Festival
CREDITS
Director: Reza Tofighjoo
Writer: Maryam Esmi-Khani, Reza Tofighjoo
Cinematographer: Masood Amini Tirani
Editor: Farnaz Roshanaei
Sound Recorder: Ehsan Shafiei
Sound Designer: Ehsan Afsharian
Production Designer: Aydin Zarif
Make-Up: Soudabeh Khosravi
Cast: Shabnam Moghadami, Kourosh Tahami
The Day of Duty
By
Ali Farahani
| Iran | 2019 | 20 min
SYNOPSIS
During a ritual ceremony in a multi-grades school, Pardis, a high school student, is obligated to accompany an elementary student called Naghmeh. To maintain the order of the ceremony in front of the higher officials, the headmaster of the school is forced to put Pardis in charge and to introduce her not as a student but as Naghmeh's older sister, a family member.
FESTIVALS
Tehran International Short Film Festival 2019
Beeston Film Festival 2019
Moscow International Short Film Festival 2019
Taoba International Youth Film Festival 2019
CREDITS
Director: Ali Farahani
Writer and Producer: Ali Farahani
Director of Photography: Reza Teimouri
Editor: Pooyan Sholevar
Music: Milad Movahedi
Art Director: Samira Ghorbannejad
Sound Recorder: Ali Zolfaghari
Sound Designer: Ramin Abolsadegh
Make-Up: Misha Jodat
Cast: Leyla Zare, Farnaz Ebrahimi, Sara Miraee, Melody Aram Nia, Amir-Reza Ranjbaran
Bitter Sea
By
Fatemeh Ahmadi
| Iran | 2019 | 15 min
SYNOPSIS
To keep her job and home in London, an immigrant single mother has to hide her five-year-old daughter from her boss and landlord.
FESTIVALS
London Short Film Festival 2019
Fajr Film Festival 2019
East End Film Festival 2019
British Urban Film Festival 2019
Durban International Film Festival 2019
CREDITS
Director: Fatemeh Ahmadi
Screenplay: Fatemeh Ahmadi
Producers: Emma Parsons, 60 Degrees
Director of Photography: Alex Grigoras
Art Director: Zoe Payne
Costum Design: Emily- Rose Yiaxis
Sound: Barney Brooks
Editor: Abolfazl Talooni
Sound Design: Rob Szeliga
Music: Filip Sijanec
Cast: Ada Condeescu, Bella-Marie Ochiana, Jeff Mirza, Raghad Chaar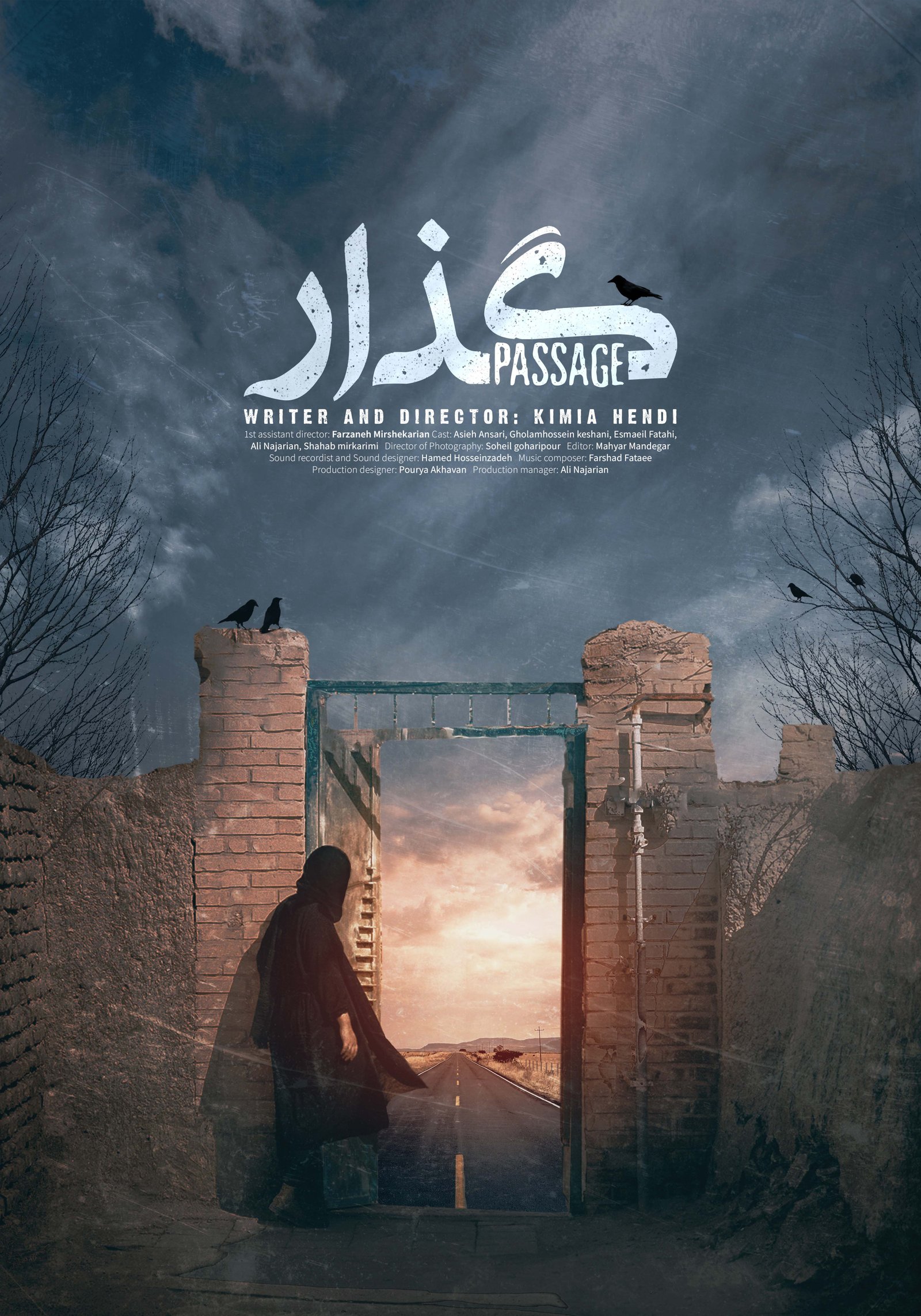 Passage
By
Kimia Hendi 
| Iran | 2019 | 15 min
SYNOPSIS
Dealing with grief for her late father, Shirin is delivering some chairs for a wedding. After her father appears by her, she understands that, little by little, she is becoming more like him. As she reaches her destination, she learns that the wedding is now a funeral because of the groom's father's sudden death.
FESTIVALS
Image of the Year Film Festival 2019
Ten Film Festival 2019
Nahal Student Film Festival 2019
CREDITS
Director: Kimia Hendi
Assistant Director: Farzaneh Mirshekarian
Cinematographer: Soheil Goharipour
Editor: Mahyar Mandegar
Composer: Farshad Fataei
Sound Designer: Hamed Hosseinzadeh
Set Designer: Poorya Akhavan
Cast: Asieh Ansari, Gholamhossein Keshani, Esmaeil Fatahi, Ali Najarian, Shahab Mirkarimi
NEWSLETTER
Festival news and exclusive offers