Tattoo
By Farhad Delaram | Iran | 2019 | 15 min
SYNOPSIS
Thinking it would be a simple process of filling out paperwork to renew her driver's license, a young woman encounters a roadblock when an official's line of questioning take a turn.
FESTIVALS
Berlin International Film Festival 2019
CREDITS
Director: Farhad Delaram
Producer: Dena Rassam
Screenwriters: Dena Rassam, Farhad Delaram
Cinematographer: Mohammad Reza Jahanpanah
Sound Designer: Amirhossein Ghasemi
Editing: Meysam Muini
Assistant Director: Hossein Mashali
Colour Correction: Saman Majd Vafaei
Cast: Behdokht Valian, Alireza Sanifar, Pouria Shakibaei, Anahita Eghbalnejad, Mojtaba Fallahi
Elephant's Shadow
By
Arman Khansarian
| Iran | 2018 | 22 min
SYNOPSIS
According to his doctors, Leila's father has only a few days left to live. His only concern is for his daughter's welfare. Leila decides to plan a scenario for his dad so that he can die peacefully.
FESTIVALS
Tehran International Short Film Festival 2018
CREDITS
Director: Arman Khansarian
Writer: Arman Khansarian
Cinematography: Mohammad Hadadi
Editing: Pouyan Sholevar
Assistant Director: Shaheen Daneshfar
Cast: Sonia Sanjari, Hesam Mahmoudi, Siavash Cheraghipour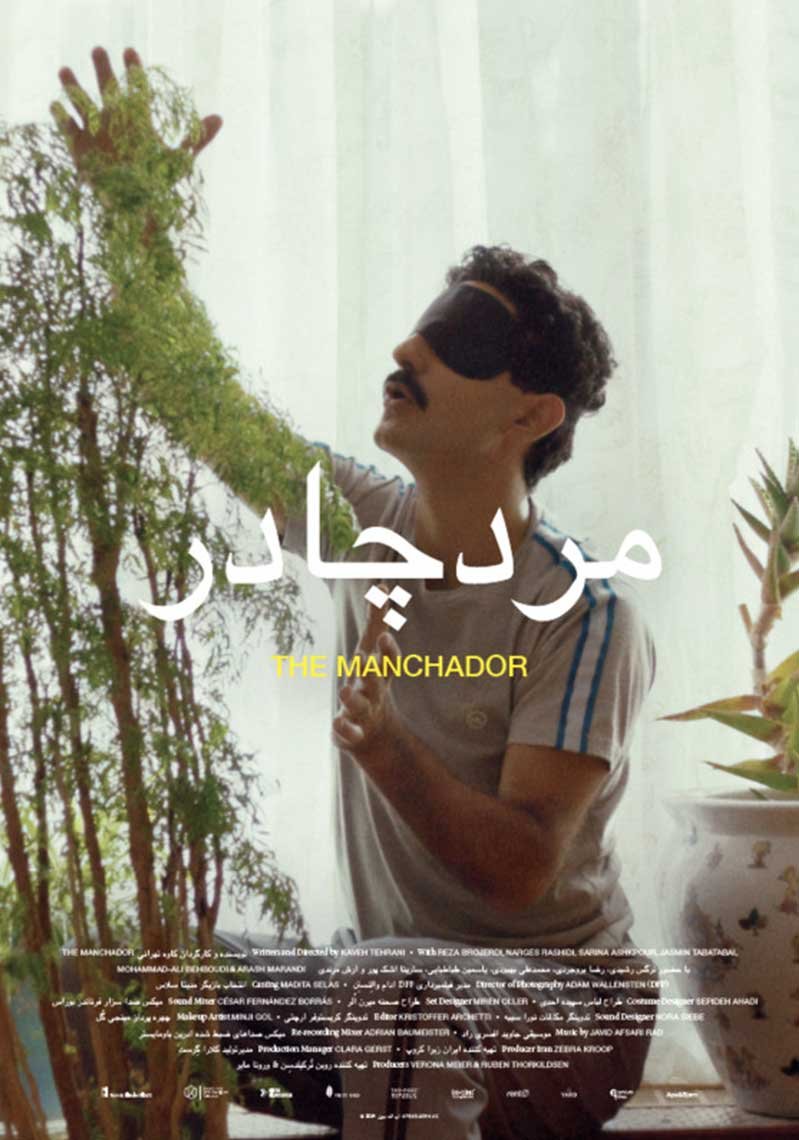 The Manchador
By Kaveh Tehrani | Iran | 2019 | 20 min
SYNOPSIS
Mina and Saeed live a stressful life in the Iranian capital, Tehran. Being a woman in Iran is not particularly easy and Mina sees a future for the family elsewhere. She wants to move abroad, but Saeed then invents a device that places the responsibility for the hijab where it belongs – with the men, whose gaze women need protection from. The Manchador is a satire about life in modern day Tehran, seeing, our senses, and spirituality.
FESTIVALS
Audience Award, Norwegian Short Film Festival Grimstad 2019
Oslo Films from the South Festival 2019
CREDITS
Director: Kaveh Tehrani
Screenwriter: Kaveh Tehrani
Cinematography: Adam Wallensten
Editing: Kristoffer Archetti
Costum design: Sepideh Ahadi
Makeup: Minji Gol
Set Designer: Miren Oller
Cast:Reza Brojerdi, Narges Rashidi, Sarina Ashkpour
TV: Sold to France 3
Dissect
By
Siavash Shahabi
| Iran | 2018| 20 min
SYNOPSIS
A conflict between school students ends with a tragedy. The police start an investigation to determine the causes and course of events. The students reconstruct the fight. One of them knows more. What is in the picture he shows the detective? Why is the teacher concerned about the drawing?
FESTIVALS
Krakow Film Festival 2019
Palm Springs International Film Festival 2019
CREDITS
Director: Siavash Shahabi
Cinematography: Hamed Hoseini Sangari
Script: Siavash Shahabi
Editing: Emad Khodabakhsh
Production: Siavash Shahabi (Baran Film House), Maryam Kouhkan
Cast: Alireza Sanifar, Tinoo Salehi
Staircase
By
Mohsen Banihashemi
| Iran | 2018 | 20 min
SYNOPSIS
Ahmadreza and Saeedeh are divorced and Ahmadreza remarried to Mahshid, his ex-wife's best friend. Ahmadreza, who is about to leave with his new wife, wants the custody of his son, so Saeedeh tries to hide the child before the next hearing. Ahmadreza finds out and goes to her, deciding – after a bitter argument – to take the child away.
FESTIVALS
Venice International Film Festival 2019
CREDITS
Director, Producer: Mohsen Banihashemi
Screenplay: Mohsen Banihashem
Cinematography: Soroush Alizadeh
Editing: Hossien Khoshbin
Original Score: Mehran Mirmiri
Costume Designer: Nasrin Khorrami
Sound: Mehrdad Kabiri
Cast: Sara Bahrami, Toomaj Danesh Behzadi, Faezeh Yousefi, Gholam Niazi
By
Faezeh Alavi
| Iran | 2019 | 20 min
SYNOPSIS
Zoe, a Hungarian woman, has come to Australia to be reunited with her husband, Andreas, who arrived earlier to settle in and establish a home for them. Andreas soon reveals that he is gay, and a furious Zoe plans to take revenge but it all goes horribly wrong. She tries to kill Andreas but he kills her instead, and keeps her corpse in the house. The story starts with Zoe's dream after her death and ends with her husband's nightmare in real life.
FESTIVALS
Persian Film Festival 2019
CREDITS
Director: Faezeh Alavi
Producer: Faezeh Alavi
Music: Sofia Chapman
Director of Photography: Alper Kasap
Producer: Faezeh Alavi
Editor: Jack Worthington
Colorist: Joshua Francesco Hoareau
Co-writer: David De-roach
Make up: Valerie Ragas
Sound Designer: Gerard Mack
Cast: Alana Hunt, Christian Bagin
NEWSLETTER
Festival news and exclusive offers